The best website tools to use to Improve and Grow your Blogging Business
The best website tools for improving and enhancing your Blogging business
Well, You have created your new website or had one designed for you. And this is looking good, you've launched it. However, now is the time to go one step forwards – it is time to improve your website and expand your business.
The Great news is that you can use tools for your Service Business and website development. The bad news is that it could take a long time to research, read reviews and test various products. And your Business can hold you back.
Fortunately, we tried it all! And we share Seven main Sections of Marketing in this post that help you to improve your website and to expand your Service business. And we give you a list of tested tools for each sector, which we are happy to advise you and help you spend less time researching and growing your business more.

Website design & web developer tools
Web design is an important element for taking your company to the next level. Sometimes, even if you have your website professionally designed, you may need more control over the design element in your website. Maybe you want to use a page builder for this purpose.
At digitallydiv Agency we use WordPress CMS : Read this article why we use only WordPress to Build websites for our Clients.WordPress Web developer.
WordPress is the world's most popular content management system(CMS). Millions of businesses base their online presence on a WordPress platform.It's no secret that WordPress website design, particularly in recent years, has taken the web by storm.
The popular blogging platform now powers an impressive 75 million websites. To put that into perspective, there is an estimated total of 1 billion websites at present, meaning that WordPress powers around 7.5% of websites internationally. Joomla powers around 3.3% (33 million) of all websites and Drupal is known to power around 2.2% (22 million).
Many designers of websites are now using Page Builders Like Elementor, Divi theme, Thrive Themes Or Beaver Builder . You can create design elements and templates in minutes literally using a Page builder. The advantage is that the owner of the website can then use the same page builder to make changes.
Why Elementor Is one of the Best Page Builders for WordPress?
Elementor is the page builder that we recommend to all our clients. It has a free version of the basics, but the Premium version gives you all you ever need.
You can add price tables, reviews, quotes, and make beautiful pages in only a few minutes with just a few practical steps.

For some of the niche Service businesses, we use DUDA CMS. You could build a website with Duda in a third of the time it took us with WordPress, and there are many features that are geared towards a team organization. Duda can really help you manage workflow much more efficiently, which meant you can scale up easily.
Are there any Elementor alternatives?
Thrive themes, which at the time of writing begin at about $67 per year.
Divi theme
And Beaver builders. This is a more advanced page designer and is used by many developers (with a steeper learning curve).
Your Ultimate Content Marketer's Guide to Keyword Research
Taking bookings/Consultations on your website
Would you like to start making Bookings or Consultations Bookings via your site? Calendly is a tool many of our customers use. It enables you to set up your diary, block time and assign times for certain appointments, so you can directly book your prospective customers into the tool.
You can handle your diary without exchanging unending emails with your customers when you have discovery calls, coaching calls or other consultation events. If you upgrade to pay version, you can set up various types of meetings and payments through your website with different lengths of time. You can also use another Tool called Acuity Scheduling .
Alternatively, you can instal a payment plugin on your website and add it to a PayPal or Stripe payment provider. Bookly is the recommended popular online reservation and scheduling plugin.
Email Marketing
An e-mail marketing tool is also a tool you may need to integrate with your website when you grow your company. Companies like MailChimp or ConvertKit can build a customer database by collecting contact details for visitors to their website. With the help of e-mail marketing, you can build and regularly contact and market better relationships with your customers (or potential customers).
MailChimp
You can have a free account with MailChimp for your first 2,000 subscribers. The functionality of the free version is limited. But if you're just starting out with email marketing, the software probably has everything you need.
Keap: Keap (used to be Infusionsoft)
Keap, which used to be known as Infusionsoft, is another piece of software which many online marketers recommend. At the time of writing, the plans start at about $99 a month. So if you start off, have a small number of subscribers on your list, and you don't need access to complex functionality, this is quite an expensive tool.
The software is definitely more advanced, so it could be the one for you if you need to establish complicated marketing funnels
Taking payments on your website
Finally, you can create products for your services or packages on your Website if you are a service-based firm and require a way to pay for online programmes, courses or memberships via your Website, for example. You then sell them in the same way you'd sell physical goods on an eCommerce website.
PayPal and Stripe

PayPal and Stripe are the most popular options for payment providers. You can configure a 'Pay Now'-button in a few minutes if you have a PayPal account. Stripe is easy to use too, with lower charges than PayPal. Make sure your website has an SSL certificate installed that allows you to capture customer card information.
A valuable keyword is the one that has a high demand and low competition.
Creating high-quality Images for your website
You must use great photos, pictures and graphics if you want to look your website professional. But it may not be enough to have professional photos of yourself. Sometimes you need to add texts over a picture or resize them to fit your website into a certain area. You might also need to use photo editing software if you're not a qualified graphic designer (or have one that you could call regularly).
Canva (Affiliate Link)is an awesome tool that we recommend (if you sign up, we get awards and stuff). It features a free version with lots of features and an upgrade payable version, if you like. It is much easier to use than Photoshop (and much cheaper). And it is perfect if, for Instance, you want to create pictures for blog posts. In order to make your page look more interesting, you can easily overlay text in your existing photos or simply add beautiful graphics.
Your Ultimate Content Marketer's Guide to Keyword Research
Videos
Video is a great tool for enhancing user experience and building confidence with your public. However, your SEO efforts can also be improved, as your users spend more time on the page when watching videos. And this says that your contents will be worth consuming to Google and other search engines.
You may like to record yourself talking to the camera or making presentations, for instance, in a number of ways that your website can use video. However, where can you host your videos, whatever you decide to do?
YouTube
YouTube is the obvious choice. It is free and unbelievably easy to configure. Just build an account, upload and finish your videos.
However, you must be aware that you will publish other content after playing your videos that may or may not be relevant to your audience or business. It's not always a bad thing. But bear in mind that the user experience you provide through your website is not fully controlled.
Vimeo: Vimeo is a great option for YouTube. They have a free plan, so that you can only upload a few videos per week. If you need more then your cheapest scheme at £6 per month is pretty affordable when you write. Vimeo is not going to promote other content, unlike YouTube.
SEO Tools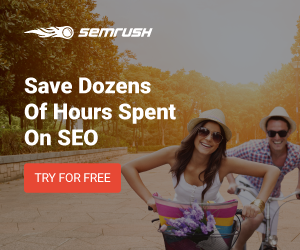 "Good SEO work only gets better over time. It only searches engine tricks that need to keep changing when the ranking algorithms change." –
Your Ultimate Content Marketer's Guide to Keyword Research
SEO: IT'S ALL ABOUT RETURN ON INVESTMENT
SEO is an Important Marketing Strategy that is Long-term and Gives Higher ROI.
As a Biz Owner, you can Check many things when it comes to your website Health
SEO Tool:
SEMRUSH is a SEO tool that knows a lot about your market and website. It gives you access to the world's largest database of 20 billion keywords, 310 million ads and 17 billion URLs crawled per day.

AND…Whenever you're ready…here are 3 ways we can help you land more and better clients, customers, or patients:
1. Work with us One-on-One.  Let's chat…Click here to book a pitch-free 15-minute call. I guarantee it'll be the best 15 minutes you spend this month.
2.Download (FREE) my new e-book: The Conversion Ready website Checklist.
3.If you haven't seen the growth you would like in your service business yet, and you are keen to begin the journey soon, then the Digitallydiv Agency may be a good fit. We Help Service-Based Business Owners Like You Nail your Business content That Will Refine Your Message, Generate More Clients And Boost Your Profits. 
About the Author:
Hey there, I'm Div, a passionate blogger who loves sharing my thoughts and experiences on Blogging Business, Travel & decor.
With 6 years of experience in the Blogging world, I've gained a wealth of knowledge and insights that I love to pass on to my readers.
Whether I'm exploring new travel destinations, trying out the latest recipes, or sharing tips and tricks for SEO & Blogging, I'm always looking for new ways to connect with my audience and share my passion.
Let's dive in and explore together!